Rolls Royce Silver Spur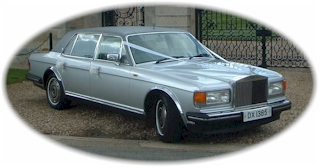 The Rolls Royce Silver Spur is significantly larger than its "Baby" sisters, the Silver Shadow or Silver Spirit, offering almost 10" more rear legroom. This allows easier entry and egress and, of course, offers ample room for even the most elaborate brides' trousseau. This is the preferred choice for any modern chauffeured hire. You may consider our Vanden Plas DM4 Limousine or our Daimler DS420 Limousine either as a bridesmaid car, or perhaps for a less formal occasion, either way you will find it equally as beautiful.
All our saloon motor cars are long wheel base versions. They offer additional rear legroom making them suitable either as the main bridal car, or work in perfect combination with the others in our fleet..
This vehicle is beautifully finished in Highly Polished Silver Livery and extensive Sparkling Chrome. This vehicle is suited for both religious or secular ceremonies, and will help to make your special day a day to remember. This is a truly beautiful example of a Rolls Royce, hand-built by British craftsmen.

It is ideal for all types of Wedding Hire, whether for the young virgin bride, or someone who has found love in the Autumn of their life. Everyone wants the best for the bride on her wedding day, and there is no better way than to be chauffeured to and from her wedding in a Rolls Royce

Enjoy your journey as you glide gracefully in fully Air Conditioned comfort. Sit back and relax amid the opulence of piped Cream Leather seating, surrounded by a small forest of magnificently crafted polished Walnut, while listening to a selection of appropriate music.
All images and text are Copyright of The Blackwater Carriage Company © 2003-2009